An angry electorate… More divided than during the Bush years… Marked by nasty ads and commentary, over-the-top rhetoric, and even violence.
These are just some of the ways that political observers have described American voters and the 2010 mid-term elections.
Without a doubt, many election contests were bitterly fought and divisive. Now comes the hard work of legislating and governing.
It won't be easy for either side, but if there is one thing the new Congress and President Obama ought to agree on, it's that gun violence victims deserve their support, their leadership, and their determination. And that should be easy.
America runs away with the disturbing distinction of having the highest rate of gun deaths among high-income countries. We lose more than 30,000 men, women, and children each year because of gun deaths – and that's in addition to the 80,000 or so non-fatal gun injuries inflicted each year.
The majority of American voters (regardless of party) support common sense legislation that saves lives and helps keep us safe.
A number of Tuesday's winning U.S. Senate candidates from both parties have supported common-sense restrictions to help keep dangerous guns from dangerous people. They include, on the GOP side, Senator-Elect Mark Kirk in Illinois and Senator-Elect Dan Coats in Indiana. On the Democratic side are Senators Barbara Boxer in California, Chuck Schumer and Kirsten Gillibrand in New York, Ron Wyden in Oregon, Barbara Mikulski in Maryland, Michael Bennet in Colorado and Daniel Inouyue in Hawaii. Democrats Richard Blumenthal in Connecticut and Chris Coons in Delaware are strong sensible gun law allies who were elected to the Senate as well.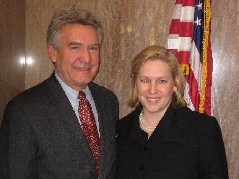 Helmke and Gillibrand
While the number-crunching and analysis for the mid-terms will go on for weeks and maybe months, it already seems clear that the Democrats incurred huge losses in the House largely because they abandoned their base, which overwhelmingly backs stricter gun laws.
More than half the Democrats who were swept out of office in Tuesday's House contests cozied up to the National Rifle Association for an endorsement. Nearly 60 percent of the Democratic incumbents who lost had received an "A" rating from the NRA.
Meanwhile, 98 percent of Democrats running for re-election who co-sponsored our immediate legislative priority — closing the loophole that allows private sellers to sell guns without Brady criminal background checks — appear to have retained their seats.
Newly-elected Democrats will be strong advocates for our agenda. For example, Brady-endorsed U.S. House candidate David Cicilline, who made promoting sensible gun laws one of the defining aspects of his tenure as mayor of Providence, R.I. and was one of the first to join the Mayors Against Illegal Guns campaign, won in Rhode Island's 1st District.
Cedric Richmond, who as a state legislator fought to restrict access to assault weapons, flipped the seat from Republican to Democrat in Louisiana's 2nd District. Colleen Hanabusa received our endorsement and flipped another seat to the Democrats in Hawaii's 1st District.
There is much to do. As voters cast ballots Tuesday, a trial was underway in California for defendants who plotted to kill a prosecutor with a high-powered rifle. "Thirty rounds, a high-powered rifle, better off than a handgun. Unloading that whole (rifle) clip on him would have been overkill. Yes, it would have," testified Pablo Cruz, who had been in on the scheme to murder Ventura County Senior Deputy District Attorney Marc Leventhal.
On the other side of the country, Boston's Roxbury neighborhood mourned the death of a mother of four who was gunned down in a hail of bullets by an AK-47-wielding man who burst into a convenience store, shooting, and also wounding, the owner. Another Boston mother who witnessed the bloody aftermath described it as "awful," adding, "But a lot of people kind of looked at it as another episode of Law and Order."
In other words, too many Americans are numb and feeling somewhat hopeless. They have lost faith in our political leaders' ability to combat gun violence because they don't see enough of them making a serious effort.
In the 111th Congress, the Democratic leadership was frequently paralyzed by the perceived need to protect the NRA stalwarts in their caucus. But now we see that appeasing the gun lobby did Congressional Democrats little good and was a grave disservice to gun violence victims, whose numbers mount every hour of every day.
We now have lost two more years in the fight to stop the plague of gun violence. For the good of the country, the 112th Congress and elected officials from both parties need to push vigorously for laws that will help turn the tide in favor of a safer America and far fewer innocent people being gunned down while trying to live their lives.
Paul Helmke is president of the Brady Campaign to Prevent Gun Violence. Follow the Brady Campaign on Facebook and Twitter.